In The News
Welcome to the North Penn Technology and Engineering Education Department news page. On this page, you will find many news postings regarding relevant activities and events happening in the department, Engineering Academy and our clubs.

07-27-2017
NPHS Students participate in littleBits STEM Activity at North Wales Area Library
On Thursday, July 27, 2017, North Penn High School student Kathryn von Abo, 2017 graduate Harris Levine, and Mr. Boyer worked along side Rory Kelley,

Jared Rodriguez, and

several interns from the Navy to run a summer Science, Technology, Engineering and Mathematics (STEM) camp at the North Wales Area Library.

The STEM camp, designed for students ages 8-13, introduced electrical circuits known as littleBits. littleBits kits are "...composed of electronic building blocks that are color-coded, magnetic, and make complex technology simple and fun. Together they're interchangeable in millions of different ways to empower kids to invent anything - from a sibling alarm, to a wireless robot, to a digital instrument."

There were 12 students who participated in the event and everyone had a great time learning, exploring and experimenting with something completely new!

Please visit the North Wales Area Library website for other exciting STEM activities coming soon.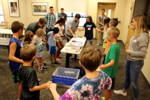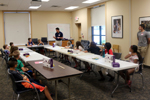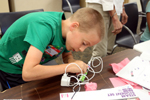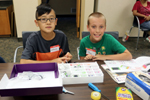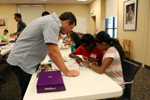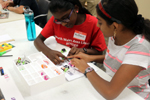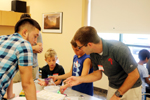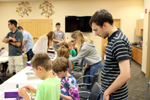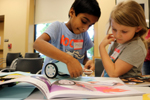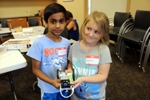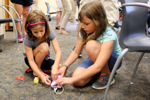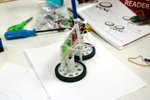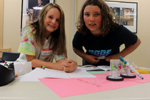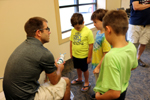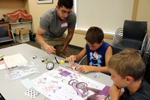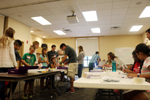 07-23-2017
PLTW Core Training:
North Penn teachers travel to Bucknell University and the University of Delaware
Core training, a requirement to teach PLTW courses in the North Penn High School Engineering Academy, "...immerses teachers in a hands-on, collaborative learning environment that challenges them to look at their classrooms in a new way. Teachers take on the role of a student, engage

in in-depth exploration of PLTW coursework, and gain invaluable experience to take back to their classrooms." The content, skills and curriculum learned will be implemented in the fall when they return to their classroom for the beginning of the school year!
At the high school, Julia Young will be trained in Introduction to Engineering Design (IED), Mike Voicheck will be trained in a brand new Engineering Academy course, AP Computer Science Principles and Eric Specht, the department's newest teacher, will be trained in Principles of Engineering (POE).
From the middle schools, Chad Gunzenhauser (Penndale), Nic Lorenzo (Pennbrook), and Jeff Testa and Scott Thompson (Pennfield) will be implementing two brand new PLTW gateway courses: Automation and Robotics (AR) and Design and Modeling (DM) this fall in the Applying Technology Major 9 course in all three middle school programs.
Please visit the PLTW website for more information about the pre-university engineering program.
07-22-2017
Website Updates
The Technology and Engineering Education Department has a newly updated website!

Please visit often to learn about exciting activities happening in the department. Updated links to the courses offered in grades 7-12, the Engineering Academy and all of the extra curricular activities can now be found in one location.